M.Chacon
Very pleased. I could really feel the difference and see the difference. Great Job!!
S.Wade
I was extremely pleased with my teeth. The finished result was so shocking, I could not believe my teeth were that bad before.
B Jacks
I was very pleased with the outcome of my treatment. I had always been very self conscious of the discoloration of my teeth. Now I am not hesitant about smiling and showing my new bright, white smile. Thanks!
J.Crage
I am very pleased with the treatment I have gotten. The people in the office did a great job helping me, and my smile looks great. Great Job!
D. Cook
Everyone was very friendly and kind and very concerned how the patient was doing during dental procedure. I would recommend Hollywood Dental Center to anyone.
M.J. April 2013
I am fortunate. I left a dentist office because to see a dentist well past my appointment time. Ended up at Holywood Dental and found a completely professional group of people. Superb treatment and such friendly folks! Dr. Rose and staff are top-notch.
V.E. April 2013
This is the best dentist and staff in town! Makes sure you feel valued as a person!
P.D May 2013
I was very pleased with the whole experience. There was very little pain. The staff is very concerned about comfort. I am very happy witht the outcome.
M.P May 2013
I have recommended Dr.Rose to anyone looking for a dentist; friends, relatives, co-workers. He is so gentle, the work is over before you know it. His staff is so friendly and helpful. I have used him for about 10 years and absolutely adore him!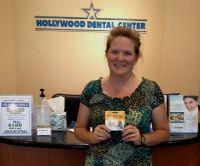 D.G. May 2013
I am pleased with my treatment. I had a crown done and I was very nervous, but Dr. Rose and his staff were very patient with me and did all they could to ease my anxiety.
V.G. May 2013
Very professional and friendly staff
N.P June 2013
Very friendly and funny staff, enjoyed visit even at the dentist office.
J.E June 2013
As usual, we received excellent care with a caring and professional staff.
P.P. June 2013
It didn't take as long as I thought it would, and of course, I had complete confidence in Dr. Rose in doing a great job in which he did. Thank you.
S.G. 6-28-13
I didn't have a family dentist on a Thursday morning of June 20th when I woke up with a terrible toothache. I referred by a co-worker to Hollywood Dental Center. I called at 9:15am and requested to be seen on an emergency basis, I was told by Ashley, who was ever so helpful and polite, that if I came in by 9:30 I could be seen. To make my long story short, I didnt expect to be seen at all that day, I was, my tooth was taken care of, and as of today June 28th, I am proud to say that I know have a family dentist! Thanks to everyone on the staff for their courteousness... keep up the good work. I would highley recommend anyone looking for a dentist to Hollywood Dental Center.
G.I. 7-3-13
I have been to many dentist, moving North, South, East and West. I've been in Lufkin 20 years now and I can tell you Dr. Rose is the VERY BEST! (there is no one better, he is the best of the best)
G Lowery 7-9-13
Always a preasurable experience. I love your staff, facilities and expertise! Thanks for allowing me to be a client!
M.Bolt. Aug'13
After several appointments (and many more to come) I must say that the care Dr. Rose and his staff is the best I have ever had. They are all completely professional. All appointments have made me feel relaxed and confident in all who worked on my teeth. The staff is efficient and courteous and I highly recommend turn to them for dental care.
J. Thompson. Aug'13
We absolutley love Hollywood Dental Center. Dr. Rose, Holly and the entire staff are very kind and thoughtful. Everyone always displays profesionalism and care for the patient. Thank you for the continued great dental experiences for our family. Keep up the great work!
J. McElroy. Aug'13
As always the staff were very professional and friendly. I highly recommend anyone to visit your office.
S. Colotta 8'13
Dr. Rose made me Smile!!! I was so pleased I came home and told 2 neighbors they should use Dr. Rose. I was impressed with the office, the staff and the effective way you handle the appointment. We will continue to use Hollywood Dental Center.
M. Thompson 9.10.13
Excellent. My visits are always timely and I always have a great experience.
J. McElroy 9-18-13
A great smile. Dr. Rose and all the assistants at Hollywood Dental Center are just great. I would not go anywhere else for dental care. They are the best!
B.Hall 10.9.13
I'm very happy that I chose HOLLYWOOD DENTAL CENTER for my dental care. Not only did I get professional care, I also received very friendly and supporting team care from the whole team. Thanks.
C.Menefield 10-17-13
1st encounter. Everyone was courteous, polite and extremely professional. My appointment was early in the morning, and in some cases people are rather unfriendly during the morning, not there, I really & truly enjoyed my visit. Looking forward for future visits.
L.Siegert 10-19-13
Excited. I was treated with the most utmost respect, and all the staff was great. especially Brandon, and Dr Rose seems like he would like to see me smile again.
A. Alvarado 10-25-13
The staff are very friendly and helpful. Dr. Rose is an excellent dentist, very thorough and knowledgable. The office is always clean and the receptionist is very professional.
V. Evans 10-30-13
This dental group is the most caring and provide excellent service to the patients.
Marilyn B. 10-31-13
The service here is over-the-top in quality. Everyone seems to know how to calm the fears of an over-anxious patient. The service is the BEST and the people are wonderul. I am so proud of the work that i have had done at Hollywood. I have had many appointments and several still ahead as I have extensive treatments. I have never been the least bit disappointed or dissatisfied. I highly recommend Hollywood Dental to anyone needing dental care because Dr. Rose gives excellent results in a patient friendly enviroment.
Patricia Q. 12-5-13
The service that I received was excellent. My husband looks foward to visiting your office for his new plates.
Candice S. 12-12-13
Dr. Rose and his whole staff are the friendliest and most considerate people I've ever dealt with. The Dr. and his assistant were so caring. I don't know how he put together a staff where everyone was so nice and considerate. I've recommended Hollywood Dental Center to everyone I know.
Allison B. 12-12-13
I had an awsome visit. Moved down here a few months ago and didnt have a new dentist. Had a filling come out and they were able to get me in super quick and help me out.
Linda M. 12-25-13
As always the service was excellent. The staff was very professional, friendly and considerate. I would highly recommend Hollywood Dental Center to anyone that needs dental care.
Kenneth B. 1-4-13
When Dr. Rose and his great staf say "Hollywood Dental...they are not kidding! In this place you are treated like a star! My teeth were transformed as if by magic to the beautiful gorgeous teeth they are today and all with almost totally non-existent pain! I love the whole crew there and you will too!
James,Mc 2-18-14
Just had my by-yearly check-up-cleaning etc. All was fine. This visit was quick, punctual and as easy as I have come to expect from Dr. Rose and his great staff. Thanks
Barbara, L 2-25-14
I always get good service when I am at Hollywood Dental Center. This time was just a good. Rate a 5.
Amber, B 2-25-14
Very comforting dentist office! Very professional and personable.
Gail. I 2-27-14
As always, I love going to the dentist... when it's Dr. Rose. There is no finer or better dentist in the entire area! This last visit, I had my teeth cleaned by (to me) hygienist and she was amazing! My teeth look and feel better than ever! thank you Dr. Rose and your staff for always providing the BEST dental service.
Jacklyn M. 3-11-14
yesterday I went for my first visit at Hollywood Dental in Lufkini. Of course the first visit is xrays ..etc. First that staff on the phone scheduling my appointment was so friendly. I have put off dentist visits for a couple years. I was very nervous and embarrassed of the amout of work need on my teeth! The staff made me feel like I was not being judged, just that they were going to do everthing they could to help me get my teet healthy. After doing all the xrays, etc I was presented with the list.. I cried in office, I was afraid of the name Hollywood Dental wold come at a Hollywood price. I made an appointment to get started. I walked out thinking they must be just expensive. I am going to find another dentist. I called around, every other dentists were hundreds higher than hollywood or the same. Lesson of the day...Dental work is expensive. moral of the Story is dont let the name Hollywood Dental lead you to think that they are Hollywood prices. Customer service was perfect. I even called back this morning to apologize for crying in office, she assured me that i didnt need to apologize the she completely understood. Then answered my questions i failed to ask yesterday. Dental work is going to be expensive, but these people work with you the best way they can. Offering payment options and discounts for different things . So dont wait years like me! This place is above A+, that is all. Done with my book!
Geraldine R. 4-11-14
My husband and I received excellent service during our dental cleaning & xrays of our teeth at our April 10th appointment. We always have recommended Holywood Dental & Dr. Rose to all of our family and friends.
Rhonda S. 4-20-14
Dr. Rose and his staff did an excellent job. They were extremely patient with my 8 year oldwho had a bad experience somwhere else and was scared. By the end of the visit, he was confident and proud of himself. Dr. Rose and staff were patient, friendly, and did a wonderful job. I would highly recommend Hollywood Dental.
Steven R 5-7-14
Thank you so much for seeing me the same day that I came in just to show my new insurance and get it in your system. Since I had a bad tooth ache Dr. Rose saw me that day and even did a root cnal and redid the cap that day with a temp until the custom made cap is ready. The staff is tryly the best in the business being both friendly and professional and the dental assistant was wonderful and seemed very skilled as if she was already a dentist herself which was extremely impressive. Dr. Rose is the best dentist that I know and stays updated on all the new stuff. P.S. the couch in the waiting room was the most comfortable couch i have ever sat on my life.
Margaret D. 5-15-14
My daughters and I all had a good experience at our first visit to Hollywood Dental, Dr. Rose was professional and the staff were very courteous and we had a nice experience. We will definately be returning to them for our future dentist needs.
Mathrew P 5-21-14
Who needs to be in Hollywood, California to feel and be treated like a star when you can go to Lufkin's Hollywood Dental Center and receive the same treatment? From the receptionist at the front desk, to the dental assistants, and Dr. Rose himself, I was pleased with their service and friendliness, which made for a wonderful experience! I am covered by insurance throught my employer so i left there paying a small co-pay of $25. Overall, this was a very pleasant experience and highly recommend this dental office to those who are in need of this service? I hope this has given you more insight when determinings a dental office of your choice considering I looked over reviews prior to choosing Hollywood Dental as my choice of preference !
Corey B. 5-28-14
Everytime I have an appointment, the staff is always so great! Never seen anyone without a smiling face! So helpful as well. This is the second time I've been for myself and my wife has been a couple of times too? Great ever time !
Veronica B. 6-5-14
I have been using Hollywood Dental for 3 years now. I have been very pleased. The entire staff is always very efficient, pleasant and knowledgeable.
Debbie H. 6-5-14
Dr. Rose was great! The staff was super nice and make me totally comfortable. Dr. Rose did a terrific job! I recommend him and his staff to anyone who wants a dentist who does a great job!
James. E 6-22-14
As usual, my husband and I had a great visit at the dentist. The staff makes it a pleasant experience and are always friendly and ready to assist your needs. They know we have to travel a bit of a distance and are always accomodating with the appointent time.
Belinda C. 6-5-14
Awesome visit, they make you feel welcome. Receptionist was very nice, dental assistant she was so nice and sweet, took her time and made you feel comfortable. When the dentist came in he was so kinid and understanding. wow this place is so wonderful then at the end they over things with your. wow i can go on and on. Just go, they really know what they are doing.
Linda M. 6-25-14
My visit was very pleasant. I did not have to wait long for my appointment. The entire staff was very courteous and professional. I would highly recommend Hollywood Dental Center to anyone needing dental services.
Vyra W 7-1-14
Finally, a dentist whose only concern was a person who needed help ad proceeded to do so. Dr. Rose is very proficient and professional and truly cares about his patients, as does all his office staff. And further, the esthetics are wonderful... calming willow trees by the large windows and relaxing music. The biggest treat is the wall decor..especially if you're an old-movie buff...no more hints... you'll have to visit to discover this fantastice place!
Mary D. 8-5-14
It's been a long time for me to go to a dentist. Dr. Rose and his staff are the best. The office is run the way we wish all offices should be run. No wait time to get in, no wait time once you get there because there isn't overbooking and everyone has great personalities... I have already been recommending his office to others...Thanks Dr. Rose.
Marilyn B. 8-8-14
I had a follow up visit after a lenghtly process of dental work. As always, I had excellent treatment from wonderful staff. Dr. Rose and his staff are the best and I hightly recommend them to anyone in need of dental work.
Ana P. 8-19-14
Dr. Rose is very professional and courteous, I was very pleased with the staff, they took great care of me. I highly recommend Hollywood Dental.
Sandra F. 8-27-14
All staff very professional at their jobs. Would recommend Hollywood dental to anybody.
Franklin K. 8-28-14
This was my routine cleaning and it was flawless and no cavities. Dr. Rose and his staff make me feel comfortable and treat me like a friend every visit.
Gail I. 9-5-14
Each time I go to the dentist it is a very pleasant experience due to Dr. Rose (who is the very best in Lufkin) and his efficient staff. They are always friendly. I hate having xrays of my teeth because it always hurt my mouth, but no with Dr. Rose, they take special steps to make sure I am comfortable and feel no pain. I can't say enough good things about this office. Only that I KNOW it is the BEST in Lufkin!
William W. 9-10-14
Dr. Rose and his staff did a really good job. I was very pleased.
Sundance G. 10-1-4
Friendly, organized, clean, well trained and professional staff
Thetis G. 10-15-14
Professional, friendly, competent, caring, skilled and comfortable low-key. No drama, no hype for the newest products on the market; just skilled gentle dentistry. AAA+ in my book
Dache C. 10-24-14
There are no words to describe how pleased I am with Dr. Rose and his staff!! They were exceptionally friendly and professional and were able to assist with my IMMEDIATE dental needs!
Kenneth C 10-28-14
I just recently had my first visit to Hollywood Dental of Lufkin with Dr. Ralph Rose. His staff and team is the best there is in Lufkin. Dr. Rose's team will answer any questions or concerns that the customer may need. My visit went quite well. I'll hope you will tell friends and or family the same about Dr. Rose and his staff at Hollywood Dental of Lufkin
Aliyah A. 11-20-14
The staff at Hollywood Dental are always super feindley and go the extra mile. Dr. Rose is a great dentist and I have been going to him for all my dental needs for 20 years!
Debbie H. 11-20-14
The staff is great! The staff is very professional and extremely nice and makes it so you dont dread going to the dentist. Dr. Rose is great too!!
Angela R. 11-20-14
I woke up with a toothache the day before Thanksgiving and called the office at 8:01am and they worked me in at 11:30 am that same day. Dr. Rose was abel to help me have a Thanksgiving without pain. Him and his staff are so polite and helpful. I am glad I found Dr. Rose and his staff for my dental needs.
Tesa C. 12-13-14
Dr. Rose, his wife and his wonderful staff are always very friendly and helpful. Never have I had a bad experience with anyone there. I've been using them for many years.
James Mc. 12-16-14
Went in to have a cavity filled. Also needed work on a totoh that needed to be resized for the partial. Dr. Rose took care of everything. I am accustomed to getting in on time and was not disappointed. Merry christmas to everyone at the office.
Grady L. 1-7-15
As always...my experience was absolutely perfect! Keep up the good work!
Tina W 9-23-16
I love the cheerful, encouranging staff who made me feel that they genuinely care about how I feel about my experience. I waited since I was 8 years old to begin this journey of feeling nomal, and I am holding back tears. I felt ugly for a very long time. Thank you guys ! I am feeling happiness!
Tillery,C 10-9-16
Couldn't be happier. Every person in Dr. Rose's office was as good as gold. Dr. Rose was so professional. I think charges were great - They worked with me on scheduling. I have zero complaints and nothing but nice things to say. I got my smile back!
Juan G. 12-9-16
I highly recommend Hollywood Dental...they treated my son great..very happy dad..awesome staff...
Johnny O. 1-14-17
I always show up early (usually 30 minutes) for an appointment. 10 minutes prior to my scheduled appointment I was in the chair. The staff (as always) was courteous and attentive. The days of dreading a dental appointment are long gone. Thanks.
William R. 1-9-17
love ralph and the crew, had a dental emergency, back about 5 years ago, psych patient hit me with his fist, och! broke my tooth, fixed it quick, and they were understanding to situation. thanks guys.
Reagan M. 2-13-17
I LOVE Hollywood Dental. I have been going here for years now and refuse to go anywhere else. From braces, to routine cleanings, they have done it all on me! Dr. Rose and his staff are always so friendly and make me feel comfortable during my visit. Would highly recommend for all ages!
Martha S. 2-14-17
Dr. Rose has been my dentist for about 18 years. At first I was very afraid and nervous and there was major work to be done. After all these years I am no longer nervous. Often there is only cleaning to be done. Also, I receive many compliments on my pretty smile!
Travis N. 4-20-17
Had an outstanding checkup with very professional staff and they were very prompt to address any issues that I had. This was my third time to visit and it has been this way everytime.
Rahsanah D. 5-26-17
I recently had to have some dental work that I had initially began almost 2 yrs ago. Dr. Rose and his staff of very professional, kind, and encouraging individuals, including himself, made this experience awesome. I am absolutely pleased with the dentistry work that Dr. Rose completed for me. The before and after care was excellent.
Jolena B. 6-17-17
My experience with this office was great. Shelby was very nice, comforting and informative. Dr. Rose was gentle and great. I dont like the dentist office but this office was very nice and made you feel relaxed.
Callie P. 7-17-17
The service and work provided was great. Sarah was very pleasant and quite calming, as I was extremely nervous about my extractions. I recommend Dr. Rose and staff to all. They were quick, accomodating, and made the experience as easy going and painless as it could get! Thanks Dr.Rose and Sarah
Lois L. 8-10-17
My husband and I both had a pleasant experience with Dr.Rose and his staff. They all were very friendly, as well as professional. They all worked together as a well oiled unit. We would gladly recommend Dr. Rose & his well trained staff. We were ver pleased!
Noah B. 9-1-17
Been a customer for years and have had a lot of work done in that time. From implants to fillings and cleanings. They have the best staff , most friendliest personnel and hygienist. Dr. Rose is the finest dentist I've ever had and would recommend (and have) to anyone. Will work with you on costs. Payment plans and such. Didn't have dental insurance until just last year and before that they worked with me on an affordable payment plan. Now both of my kids (9 and 12) go there regularly and the love it. Which is hard to believe since I hated dentist when I was that age. You won't be dissapointed.
Venus E 3-5-18
This is truly one excellent place for all your dental needs.. no matter how bad your teeth are, Dr.Rose jsut seems to work magic to make you look better. He's a perfectionist when it comes to his work and will not leave you disappointed. And a big plus is that all his staff are so friendly and kind. they make you feel part of a family and treat you as such. So if you are looking for a permanent relationship with a dental provider, see Dr.Rose
Martha L 4-11-18
Wonderul! Wonderful! Wonderful!
F Bazar
My experience was great. Staff very knowledgeable and informative. Very pleased with the whole experience, even the temporaries were easy to wear.
Robert M 1.2.2018
Absolutely love this dentist office! I have pretty high anxiety when it comes to dentists, but Dr. Rose and staff made my visits very comfortable. His staff is so nice and they make you feel very at home. It's also a very convenient location in town. I definately recommend Hollywood dental!
Deidra T. 2.20.2018
Never had a bad experience, Staff is always nice!!
Randall G 2.20.2018
Dr. Rose and staff are great always friendly and caring. I am so glad my mother recommended them. They saved my teeth and helped immensely.
Meagan A 2.27.2018
Absolutely love it here estate dentistry I've ever been to and I've been to alot
Toni S. 2.27.2018
I loved everyone there, so helpful and very thoughtful of every decision made for what is best for me and my dental needs
Gene D 5-10-2018
I was extremely nervous about going in to have my procedure done...But everyone from the receptionist to Dr. Rose did a very good job of relaxing me. Every step of the process was explained to me not only by Dr. Rose but by the wonderful assistants there. I would not hesitate to return to them and I highly recommend them!!!
Marilyn D. 5-30-2018
Went in for my cleaning with Ashley, she is an awsome lady with a great smile and great personality. Then I met Dr. Bennett. She is a marvelous dentist and great smile also. Great people there. Great care!!!
Maverick H 6-7-2018
They are great people they always make me feel right at home, Mrs Bennett and Mrs Ashley are the best, they always make me laugh
Keith D 6-28-2018
Staff are VERY accomodating. The dental assistant was very organized and te oral hygienist remembered I want the ultrasonic cleaning. Everyone was just excellent and very friendly.
Cary B. 7-25-2018
Went in for my 6 month cleaning and check up. Did not have to wait, went right back. Ashley was friendly and did a good job on cleaning. Dr. Bennett was professional, courteos and thorough. Definately recommend Hollywood Dental!
Elizabeth G 8-12-2018
I appreciate the professionalism and positive energy created by the staff and doctors. Oral health is important as it affects the whole body and Dr. Rose and his exuberant staff recognize that.
Brent B 8-17-2018
Great experience. Everyone is very professional and extremely nice.
Lana W 8-21-2018
Great experience. Dr. Rose and Bri took great care of me. They made sure I was comfortable during the entire process. Love the staff! Everyone was very nice and they even made sure to check up on me the next day!
Chris M 10-4-2018
My experience with Dr. Bennett and staff was awesome. Everyone was very professional and took great care of me. Ashley did a squeaky clean job on my cleaning and Cassandra was a great assistant to Dr. Bennett. I highly recommend Dr. Bennett, Dr. Rose and staff to any and everybody!